Spinal Surgery Table and IONM Device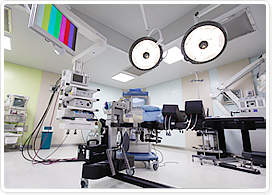 An electric-powered spinal surgery table enables the omnidirectional radiation of X-ray, with which surgery can be performed with more accuracy. Furthermore, it is possible to turn the table over 180 degrees with the patient in a supine position in order that surgery can be performed more conveniently and can be completed in a shorter time. For a patient who gets surgery while being in a prone position, the table has an empty space for his or her abdomen in order to prevent pressure from being applied to the abdomen and excessive bleeding from occurring.
An intraoperative neurophysiological monitoring (IONM) device is to sense signals from the nervous system, the spinal cord or the brain, and shows them on a monitor during surgery. It helps the surgeon check whether he or she is working without touching the patient's nerves. In the unlikely event of a nerve damage and ensuing paralysis, the device tells the change or sends an alert that the surgery can be performed with safety.