PET/CT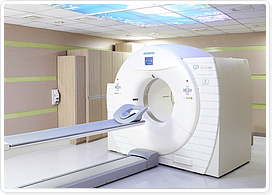 A PET-CT scanner (Biograph MCT, Siemens, Germany): With 128 channels, the performance of CT has been remarkably enhanced along with the speed of data reception. To PET, LSO the next-generation crystal and TOF the most advanced image processor were applied so that high-definition and high-resolution images could be put out. This PET-CT scanner detects even a 2-cm-size lesion of cancer. As it can finish a scan within at most 15 minutes, it can greatly reduce the problems that the image is distorted due to the patient's breath or movement while getting a scan, which leads to the accurate diagnosis of cancer. Moreover, it can reduce a dose of radiopharmaceutical by 60% as compared to other scanners. With the patented CT tube and the radiation dose control software, it reduces radiation to which patients are exposed, and therefore, considerably improved the safety of patients.
Dual Source CT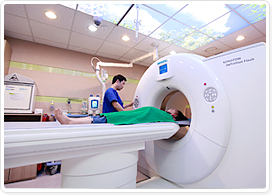 Unlike the existing CT scanners, this 256-channel dual source CT scanner has two X-ray radiators and detectors and thus enables the rapidest heart scan in the existing CT scanners, which means that it can do scans on beating hearts, children who keep wriggling around, patients with chronic obstructive pulmonary diseases or the aged who have difficulty holding their breath, and patients with severe traumas. Its radiation dose was remarkably reduced as compared to the existing MD CT; actually, it can conduct a heart scan only with a dose of less than 1mSV. Moreover, with a radiation dose reduction program, it can safely conduct scans even on breasts, eyes, thyroids and other regions that are sensitive to radiation. Sometimes, a metallic object inserted into the spinal cord or joint may leave an artifact and makes it difficult to make a correct diagnosis during the postoperative follow-up. This dual source CT scanner enables accurate follow-ups even on patients having prostheses by working with an artifact reduction algorithm.
Gamma Camera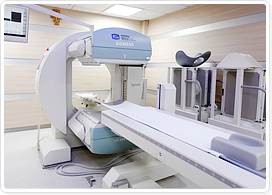 A gamma camera, equipped with a HD5 digital detector and stable crystal, is a hi-tech device to show the high-definition images of organs such as hearts, brains, livers and thyroids. Besides, it makes it possible to check whether cancer has metastasized into bones. As the detector can be far closer to the patient, a high-definition image can be outputted in less time. Because the images can be taken at various angles, patients' inconvenience can be mitigated a lot.
MRI.3T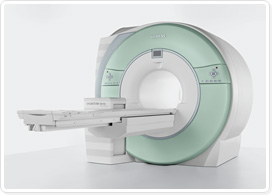 Our hospital has a 3-tesla magnetic resonance imaging (3T MRI) scanner (Verio®, Siemens, Germany) that can conduct a high-resolution full-body scan in less time. A 3T MRI scanner creates a magnetic field that is twice as strong as the 1.5T MRI scanner, and so it can take finer, clearer MR images in a shorter time. Thus, it helps detect cancer in early stage and find out whether it has returned, and moreover, make the accurate diagnoses of diseases in cranial nerves, the spinal cord, the musculoskeletal system, the abdomen and the cardiovascular system. Above all, the 3T MRI scanner in this hospital has the widest room to scan in ones in Korea, and reduces noise markedly. So, patients with claustrophobia and children feel less uneasy while getting a scan without being pretreated.